College Football Playoff Now Seems Likely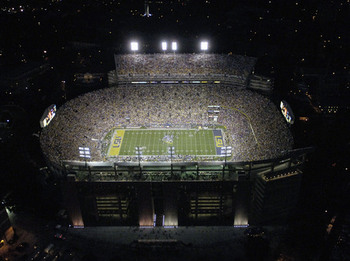 Can you imagine a playoff game at night in Death Valley?


The commissioners of all 11 Football Bowl Subdivision conferences, along with Notre Dame's athletic director, have been meeting this week to discuss the future of college football's postseason.

As news began to leak out from the meetings, it seems more and more likely that a 4-team playoff is coming in college football. However, the devil is always in the details, and that's where many disagreements take place and will continue to take place. What many fear is that the ultimate solution will be one big giant compromise that nobody really wants. But we'll see how things shake out. BCS executive director Bill Hancock said,
"The status quo is off the table."

So we do know that change is coming.

Below are two of the more sticky issues that will have to be sorted out, along with my opinions on what should happen.


How Are The Four Teams Decided?

The biggest question is whether only conference champions should be eligible for this four team playoff. Most seem to be against this idea; although, I think it has some merit. With such a small playoff, I believe that winning your conference is a very fair prerequisite. After all, simple logic dictates that if you're not the best team in your conference, how can you be the best team in the nation? Well, you only have to go back about four months to see an example of this when Alabama failed to win their division, but won the national title.

Remember back in early December of 2007 when LSU won the SEC Championship Game and then watched all the dominos fall perfectly, putting the Tigers in the BCS Title game? Before they were selected for the big game, LSU found themselves in the middle of a group of two loss teams. Who would be the team voted to play Ohio State in the championship game? The media and poll voters jumped on the fact that Georgia and Kansas, ranked ahead of LSU going into that weekend, were not conference champions, so they were OUT of the discussion. LSU then passed Virginia Tech on the merit of their head to head ass whipping earlier that season. I found it odd that winning your conference was of utmost importance in 2007 but was not a factor in 2011.

If only conference champions were allowed, then we would have seen the following a few months ago:

#1 LSU vs. #10 Wisconsin
#2 Oklahoma State vs. #5 Oregon

It doesn't seem right that the #10 team in the country get the opportunity to play for a national title. But it is what it is. As you can tell, I tend to lean towards making this thing exclusive to conference champions. However, here is why I ultimately do not support the idea:

Non-conference games would become completely useless. They would mean nothing and would amount to practice games. I suspect coaches would start treating them that way...and that would be just awful for college football.

Now, could you come up with some kind of compromise? Absolutely. Maybe you limit your field to the top six teams in the rankings, giving precedence for inclusion to conference champions. If you don't have four conference champions out of the top six, then at large teams are considered. Maybe you allow just ONE at large into the field of four. Maybe you award home field advantage to the conference champs, regardless of rank. Several options exist, and I would be in favor of something like this.

The second big piece of this is: How do you rank the teams? Do you keep the BCS formula? Do you tweak it and use something similar? All human polls? No human polls? Many options are being discussed. I tend to like the balance that the human polls and computers give each other. Sometimes, you need the "eyeball test" that human voters can provide. And sometimes you need the computers to balance out the stupidity and bias of the humans. My only caveat is that the forumula for each computer must be made public. It's ridiculous that the creators of these formulas do not release their method for arriving at their conclusions. It leaves way too much room for corrupt foolishness to take place.

A selection committee, similar to what college basketball uses, is not out of the question either.


Where Are Semi-Final Games Played?

The two primary options being considered are playing the semi-final games on campus, or using the current BCS bowls as sites for semi-finals. I'm a huge proponent of playing these games on college campuses, for several reasons.

The biggest reason is that having these games on campus would be awesome. The essence of college football is tailgating all day and being on campus prior to the game. College football is not about going to the game in a NFL stadium in some big city. Putting these games on campus, in front of enormous national television audiences, will do a ton to help grow the popularity of the sport even more.

I also like this because it offers a huge reward for the top two teams in the nation. If you have a tremendous regular season, then you can host a post-season game. That's a big time advantage and college football's "every game matters" mantra will continue to ring true.

Those who object to this plan say that you could have a team such as TCU, Boise State, or a ton of other teams end up hosting one of these games. What's the problem with that? Well, their stadiums only hold about 55,000 people. You would miss out on big money with lost ticket sales. And how will some small college towns accomodate the enormous contingent of media that will descent upon campus for the big game? Can their press box support it? Do they have enough hotels, etc to make it work?

First of all, the decision on how to decide the champion on college football should not be based on the number of available hotel rooms for media. But I also don't buy the argument about the small college town being unable to handle these games. Was the Game of the Century not held in Tuscaloosa this year? Tuscaloosa is not exactly a major metropolis. But how many media credentials did they give out for that one? I didn't hear any complaints. Some media types are acting like these games will be the equivalent of the Super Bowl, and that's just not the case. The championship game might be, but not the semi-finals.

Regarding the stadium size, how often...really....would a team with a small stadium host one of these games? On the flip side, how often would a school with a 90,000 + seat stadium host one of these games? I started to research this and came across this piece by SB Nation, so I will just piggy back their data. The average capacity of the stadiums of the four major bowls (Sugar, Rose, Fiesta, Orange) is 77,363. Had this plan been in place during the entire BCS era, 28 such games would have been played. Only three times would a game have been hosted in a stadium that holds less than 75,000 people. But 23 times would the game have been held in a stadium of 81,000 or more. The average stadium capacity for those 28 games is 86,709. So you're talking about averaging $1.3 million more per game from ticket sales (assuming a $150 face value ticket, which is probably on the low end) by hosting these games on campus.

The schools will love it too because the teams that host will save millions in travel expenses they would otherwise spend for the team, band, cheerleaders, etc. The bowls absolutely fleece the universities each year by making them buy X number of tickets, regardless of demand.

One big question I have here is whether the losers of the semi-finals can still go to a bowl game? It depends on when the semi-finals are played. Most of the discussions seem to center around the semi-final games being played in late December or early January. I think the loser should still be allowed to go to a bowl game because the players deserve that experience. So if that is not the case, then put a mark in the "negative" column for this option. One could argue that the fans of the losing team will have no desire to travel for a bowl game. And while that may be true, I fail to see how that differs much from the current system. I went to the Sugar Bowl this year. The attendance was pitiful. Orange Bowl attendance has been pitiful for years. This would be no different.

Lastly, travel will be a concern if the games are hosted at current BCS bowl sites. Wil lfans really be willing to travel to a conference championship game in early December, then to a BCS bowl semi-final game a few weeks later, and THEN travel to the national championship game a week after that? I just can't see it happening, and the decision makers should be concerned that these ultra important games will be played in less than full stadiums.

Having said all of that, most seem to believe that the semi-final games will utlimately be played at current BCS bowl sites. In just about every scenario, the championship game will likely be put out to bid for a host city, similar to the Super Bowl.

Everyone has their opinions on what is best for college football and what is best for their team / conference. At the end of the day, will the conference commissioners and other decision makers find a way to agree on a model?